*|MC_PREVIEW_TEXT|*
"Serving for Your Success"

You're so close to winning. Order # 2000 should happen the first week of July. Office pizza lunch is waiting for you. Send your orders now.

Office phone 817-633-9188
Fax 817-633-9515



Orders can be sent to order@roadrunnerroofingsupply.com



Our address is 1900 Timberlake Dr. Arlington, TX 76010
www.roadrunnerroofingsupply.com
This months VENDOR SPOTLIGHT will be on Ida Buttarazzi, Territory Manager, TILCOR Roofing USA.
A simple 9 question survey to get to know her better.


How long have you been in the roofing industry?
Approx. since 2010.

Your favorite restaurant in DFW?
Del Frisco Grille.

#1 thing you love about your job?
All the wonderful people I get to meet and work with.

Kids or no kids?
A beautiful daughter.

Soccer or football?
I guess football because of the get togethers with friends.

Your first job in the roofing industry?
DECRA Roofing Systems.

Vacations – beach, mountains or something else?
Definitely the beach!

What do you consider the #1 benefit of Tilcor stone coated metal?
The quality of the service we strive to provide. We have an amazing product, but above all we truly care about making a difference in the industry.
When you have 30 minutes of free time, what is your favorite thing to do?
Reading and/or watching anything paranormal.

Who is your favorite roofing distributor and why? (note: she answered this one well)
That's a tough question, because I don't think it's a company thing, but a people thing; and I have met so many wonderful people that I get to work and collaborate with, regardless of the company. I am a lucky girl, I truly enjoy what I do and the people I do it with!
Ida's contact info:
Ida Buttarazzi
(214) 790 9062
Ida.Buttarazzi@tilcor.com
www.tilcor.com
---


We said it was coming. Login to

www.roadrunnerroofingsupply.com

for your roofing needs!
You asked for it, you got it. Here is Deb's Texas Famous homemade ice cream recipe just in time for Fourth of July.




Note: where it says "pour all in freezer; that would be an ice cream maker to churn". Oh, so guuud!
---



July Roadrunner Special – Stop by and see us, in a safe manner of course!



If you stop by our office during the month of July, follow the roadrunner footprints to find our nest. Once inside, ask anyone of us "our key attributes" as a Roadrunner employee. Those that ask will receive a roadrunner wind chime.
NOW IN STOCK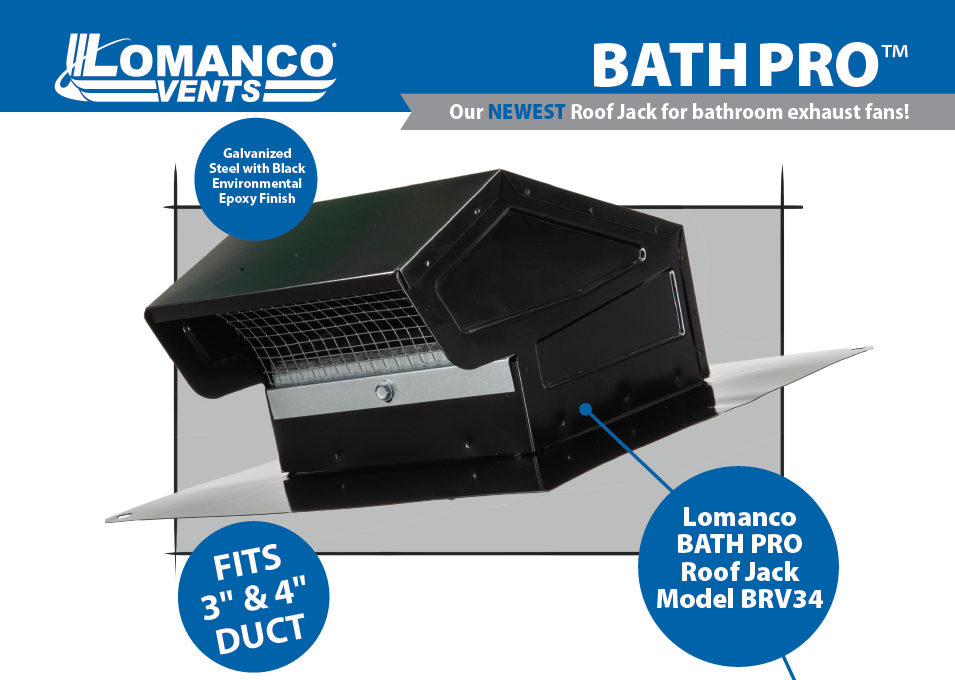 The new Lomanco Bath PRO™ Roof Jack solves your bathroom exhaust vent problems and is backed by Lomanco, the most trusted name in residental ventilation! The Lomanco Bath PRO™ Roof Jack fits all 3″ and 4″ round ductwork.
Lomanco Roof Jack vents are designed to provide a weather proof cover on your roof for exhaust ducts coming from home exhaust fan. Each roof jack vent offers maximum weather protection. All Lomanco Roof Jack vents are galvanized steel construction with a black environmental epoxy finish that can be left as is or used as a primer for painting the roof jack a color of your choice. Other common features include a built in pest screen, aluminum draft damper, and an integrated flange.
Lomanco Roof Jack vents offer fast and easy installation, and are designed to be installed on any roof pitch.
Lomanco® Bath PRO™ Model BRV34
Use with 3″ or 4″ round ductwork.

Galvanized steel construction with environmental epoxy finish.

Built-in pest screen.

Aluminum gravity draft damper flap.

Integrated flange.

Designed for fast and easy installation.

Used to vent bath fans and other exhaust fans.*
*Do not use for clothes dryer exhaust. Consult building codes before installation.
---
Last but not least, we will be closed on Friday July 3rd to celebrate America's Independence Day.

Have a safe and happy Fourth of July!